Crane A&E Supplying Rugged Military and Heavy Industrial Electric Vehicle Solutions
Crane A&E Supplying Rugged Military and Heavy Industrial Electric Vehicle Solutions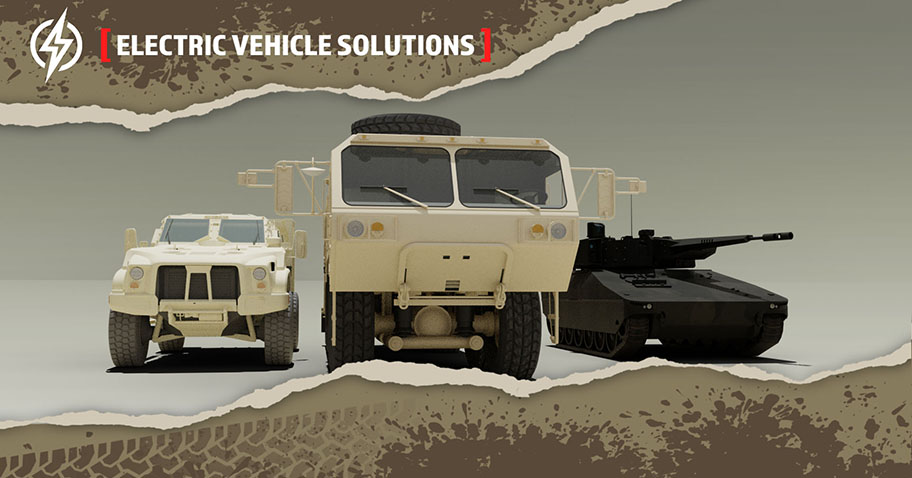 The United States Defense Department plans to electrify its fleet of ground vehicles in the coming years as part of an effort to reduce greenhouse gas emissions, strengthen U.S. industry and provide operational excellence on the battlefield. The DoD is working with key manufacturers to develop hybrid-electric drive (HED) and all-electric drive combat and tactical vehicles.
In additional to reducing fuel consumption and carbon emissions, hybrid and all-electric vehicles offer many military advantages including extended vehicle range and providing power to support capabilities such as directed energy weapons. HED or all-electric power architectures reduce maintenance cost and permits a reduced noise signature on the battlefield.
Vehicle electrification isn't exclusive to the defense industry. Many heavy industrial vehicles are targeting electric power, and for good reason, as heavy electric trucks have lower emissions, lower maintenance, lower noise disturbance, better performance and increased efficiency.
Crane Aerospace & Electronics has a rich legacy of offering innovative, custom power solutions in support of the coming generation of more electric vehicles. Crane A&E's proven power and thermal management capabilities and high customization supporting scalable architectures can provide customers a complete power system solution that delivers high efficiency, improved performance and the durability to operate in the harshest environments.
ELECTRICAL POWER INDUSTRY LEADER
For decades, Crane A&E has been a trusted aerospace & defense supplier of innovative, custom electrical power solutions. Featuring a brand new state-of-the-art high-power research and development lab, Crane A&E can design, test and support power solutions requiring up to 1.5 MW of power.
Crane A&E has vast experience working with defense partners to develop rugged, mission-critical solutions. Our broad product portfolio includes high power conversion, high and low voltage power supplies, integrated power assemblies with self-contained cooling and more-electric in-demand offerings such as bi-directional power conversion and integrated starter generator controllers.
We deliver solutions suitable for the most demanding environmental conditions, including extremes in temperature, shock and vibration, as well as compatibility with severe electromagnetic conditions. When connected in parallel, our power equipment can deliver a custom power subsystem greater than 500 kW. Our suite of electrical power solutions include:
Power Conversion Elements
Power Distribution & Management
Motor Drives/Integrated Start Generator Controllers
Custom Integrated Power Assemblies with Self-Contained Cooling
COOLING SOLUTION EXPERTISE
Given HED or all-electric drive vehicle high power requirements, a reliable cooling solution is necessary, and Crane A&E has been delivering industry cooling solutions for more than half-a-century. We can integrate electrical power and cooling capabilities to deliver HED and all-electric customers a power system solution complete with thermal management. Crane A&E's designs are flexible and capable of meeting high density power, voltage and custom packaging requirements. Our fluid management solutions supporting increasing thermal management requirements include:
Pumps, Motors and Controls
Heat Exchangers
Filter Assemblies
Tanks/Reservoirs
Accumulators
Valves
INNOVATIVE, NEW PRODUCTS TO SUPPORT VEHICLE ELECTRIFICATION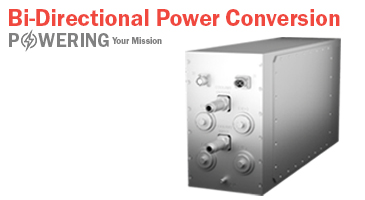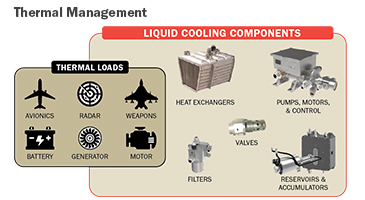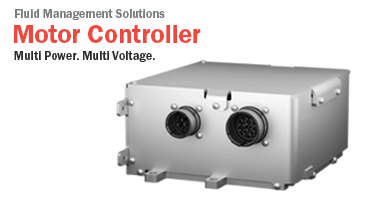 Bi-Directional Power Conversion - Our new 15 kW to 120 kW bi-directional power converters are engineered for use in hybrid and all-electric vehicle powertrains and are essential for in-vehicle power distribution.
Permits charging and use of energy storage including Li-Ion batteries
Supports cross-tie between vehicle busses
Thermal Management Systems - We've leveraged our rich history in fluid management to deliver innovative cooling products to satisfy elevated levels and new sources of thermal loads introduced by electric vehicle power systems.
Broad offering of liquid cooling pump, motor and controller technologies
Additional component offerings: reservoirs, accumulators, heat exchangers, valves and filtration
Heat heat removal for harsh electronic environments
Motor Control - Our custom high-performance, scalable motor control solution is engineered to optimize motor-driven pump performance.
Wide range of input voltages (28 VDC - 540 VDC)
Power levels up to 5,000 W
Optional health monitoring
RUGGED, CUSTOM PROVEN MILITARY SOLUTIONS
Crane A&E's products and technology delivers proven high reliability and performance for mission-critical systems. We provide efficient, high-density packaging with superior size, weight and power that our customers can count on. For decades, we've supported the defense industry with highly customized solutions that solve complex challenges – and packaged to operate in the most severe environments.
Key defense applications supported:
Vehicle electrification
Directed energy
AESA radar (ground based and shipboard)
DURABLE HEAVY INDUSTRIAL SOLUTIONS
Built to power the toughest jobs, Crane A&E suite of custom and off-the-shelf electric power system products offer solutions for next-generation hybrid and all-electric heavy industrial vehicles.
Innovative power and cooling products for heavy industrial vehicle electrification
Rugged commercial solutions equipped to tackle the toughest jobs
Flexible designs meeting high density power, voltage and packaging needs
Advanced development, ongoing investment in electrification power technologies