USAF's Largest Aircraft Adopts Crane A&E's SmartStem Technology
USAF's Largest Aircraft Adopts Crane A&E's SmartStem Technology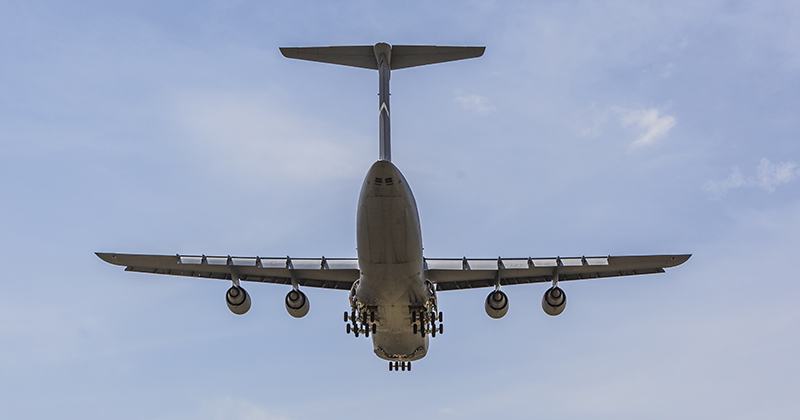 The United States Air Force's C-5 aircraft, since 1970, has supported the U.S. Department of Defense through countless missions and operations.>
The C-5, which is the USAF's largest aircraft in its fleet, serves as a military transport and has operated in major conflicts such as the Vietnam War, Iraq War, Yugoslav Wars and the War in Afghanistan. 
Crane Aerospace & Electronics has recently secured a contract with the USAF and is thrilled to be delivering its SmartStem® Tire Pressure Sensing System to such a decorated aircraft.
"Crane is proud to support the USAF with SmartStem technology," said Hilary King, Crane Aerospace & Electronics VP/GM Sensing and Power Systems. "Our product will provide the warfighter and their maintenance team a way to improve mission readiness, reduce maintenance cost and also help ensure safety."
With SmartStem technology, conventional inflation valves are replaced with SmartStem Tire Pressure Sensors (TPS), which are read wirelessly by a Hand Held Reader (HHR). The HHR, in seconds, displays tire pressure and temperature readings by the TPS and stores data for record keeping and traceability.
The technology will be particular beneficial to the massive C-5M, which boasts 28 wheels as part of its landing gear.
The C-5 was first introduced to the U.S. Military in 1970 at the Charleston Air Force Base in South Carolina. The C-5M, which is an upgraded version with new engines and modernized avionics, was first operational in February 2014.
The C-5M's specifications are impressive.
The aircraft is 247 feet, 10 inches in length, 65 feet, 1 inch in height and has a 222-foot, 9-inch wingspan. The C-5M can cover 5,524 miles carrying 120,000 pounds of cargo before refueling, has a max payload of 281,000 pounds and can travel up to 518 miles per hour. It can also take off fully loaded within 8,300 feet and can land within 4,900 feet.
The C-5M is expected to be in service until 2040.