NEWS: Crane A&E's New Long-Range Wireless Tire Pressure Sensors Featured on Boeing's 2021 ecoDemonstrator
NEWS: Crane A&E's New Long-Range Wireless Tire Pressure Sensors Featured on Boeing's 2021 ecoDemonstrator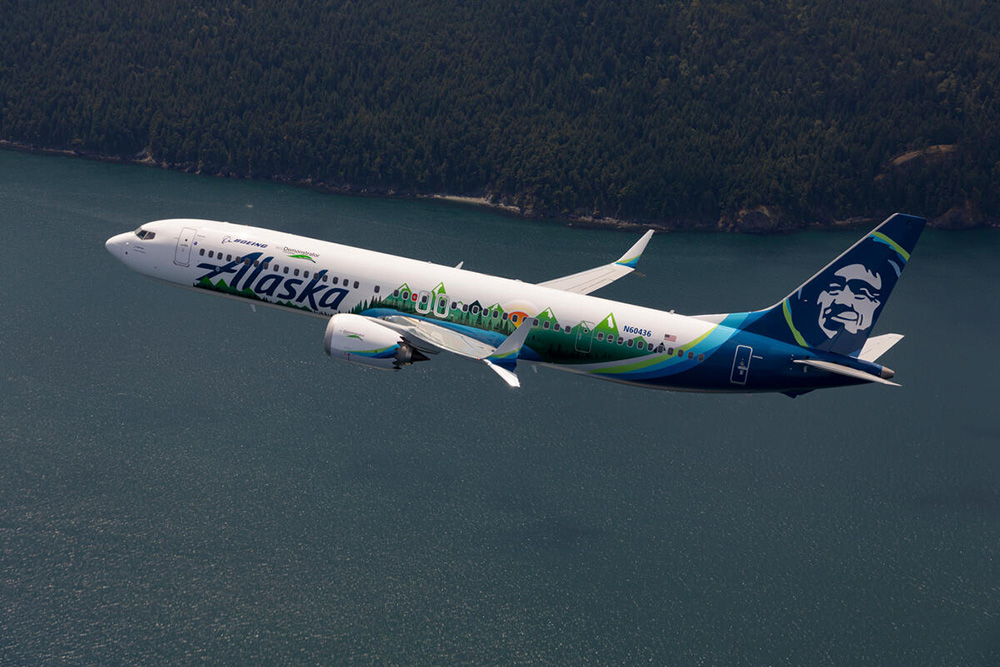 Learn More: Wireless Tire Pressure Sensing Solutions
Boeing's latest 737-9 ecoDemonstrator testing Crane A&Es new long-range sensing
LYNNWOOD, Wash., September 28, 2021 – Crane Aerospace & Electronics, a segment of Crane Co. (NYSE:CR), has been selected to feature its new Long-Range Wireless Tire Pressure Sensors on Boeing's 2021 737-9 ecoDemonstrator program.
Crane A&E's Long-Range Tire Pressure Sensors are installed on two of the aircraft's four main landing gear wheels and represent an innovative evolvement of Crane A&E's wireless sensing technology. Crane A&E's new sensors communicate with a maintenance tablet with a Crane A&E-developed application that allows maintenance personnel to easily access and analyze tire pressure data. The system enhances tire-related safety, reduces maintenance and operating cost, maximizes tire life and permits predictive maintenance. 
"For years, we have had the honor of supplying industry-leading wireless tire pressure sensing to our global customer base," said Hilary King, Crane A&E VP & GM, Sensing & Power Systems. "Our new Long-Range Wireless Tire Pressure Sensors are the latest in our ongoing commitment to provide leading edge sensing solutions to improve aviation operations for our commercial and military customers. We are pleased to demonstrate our new technology on Boeing's prestigious ecoDemonstrator."
Boeing's ecoDemonstrator program accelerates innovation by taking promising technologies out of the lab and testing them in the air to solve real-world challenges for airlines, passengers and the environment. Eight airplanes have served as flying test beds for the program since it began in 2012.
About Crane Aerospace & Electronics
Crane Aerospace & Electronics delivers innovative systems, components, and services for commercial aircraft, defense platforms, and space systems which have proven reliability in mission-critical environments. Products and services are organized into six integrated solutions: Cabin Systems, Defense Power Solutions, Fluid Management, Landing Systems, Microwave Solutions, Modular Power Solutions, and Sensing & Power Systems. For more information, visit www.craneae.com. Follow Crane A&E on LinkedIn and Twitter for the latest company news and updates.
About Crane Co.
Crane Co. is a diversified manufacturer of highly engineered industrial products. Founded in 1855, Crane Co. provides products and solutions to customers in the chemicals, oil & gas, power, automated payment solutions, banknote design and production and aerospace & defense markets, along with a wide range of general industrial and consumer related end markets. The Company has four business segments: Aerospace & Electronics, Process Flow Technologies, Payment & Merchandising Technologies, and Engineered Materials. Crane Co. has approximately 11,000 employees in the Americas, Europe, the Middle East, Asia and Australia. Crane Co. is traded on the New York Stock Exchange (NYSE:CR). For more information, visit www.craneco.com.
###
Contact
Andrew Lang
Crane Aerospace & Electronics
Sr. Marketing & Communications Specialist
425-760-8825
andrew.lang@craneae.com