Employee Spotlight: U.S. Navy Master Chief to Facilities Manager
Employee Spotlight: U.S. Navy Master Chief to Facilities Manager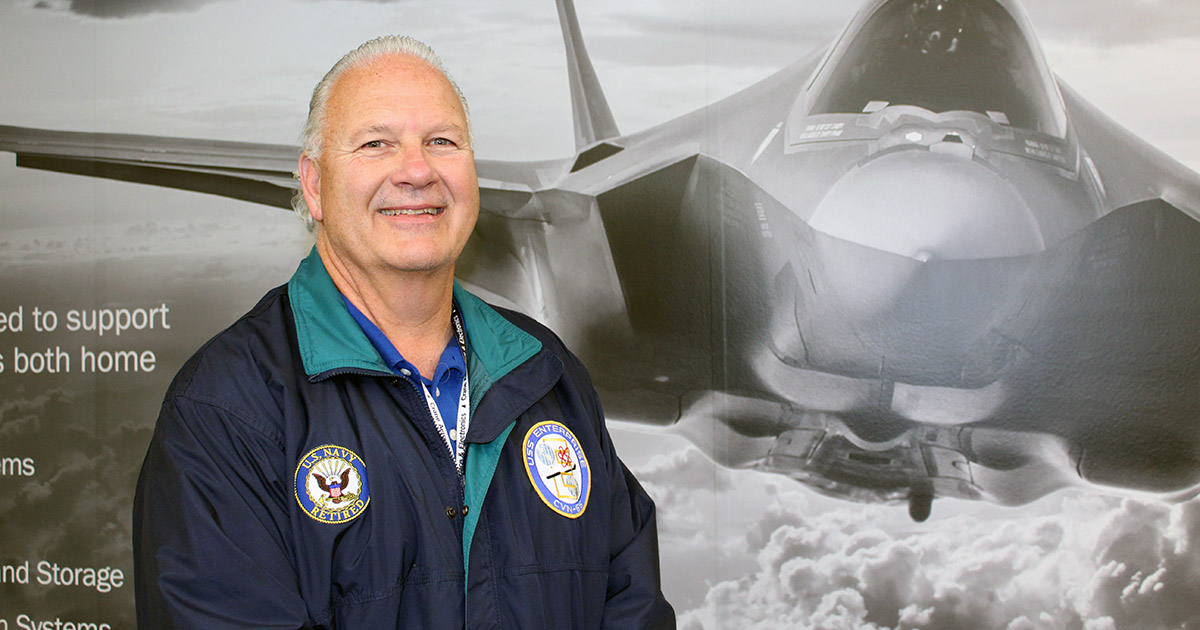 After a decorated 21-year Naval career, Oscar Garrett Jr. is bringing his invaluable experience to Crane A&E
With a population of 205 people, the sleepy southern Missouri town of Blodgett isn't known as an industrial powerhouse. Oscar Garrett Jr. grew up there 50 years ago, and aside from farming, careers were sparse. Oscar's dad didn't want his son joining the town trade. So, at 17 years old, Oscar enlisted in the military.
"I joined on June 28, 1978," Oscar said. "That was per my father's direction. He was not going to teach me how to drive a tractor, because that's all it was in midwest Missouri – just farming. He didn't want me to do anything with farming. When I graduated high school, that's when I went active duty."
Today, Oscar is two decades into his civilian career. He's a Facilities Manager at Crane Aerospace & Electronics' Burbank, Calif., facility, which manufactures a wide range of landing system and cabin solutions for commercial aviation and defense customers.
In Oscar's past is a 21-year, 4-month, 3-day decorated United States Navy career. During his service, Oscar achieved one of the Navy's highest ranks and gained invaluable leadership skills. He held several titles and served deployments on the USS Enterprise CVN-65 (with VS-21 Redtails), USS Nimitz CVN-68 (with VAW-112 Golden Hawks), USS Constellation CV-64 (with VS-38 Red Griffins) and the USS Abraham Lincoln CVN-72 (with VS-35 Blue Wolfs) aircraft carriers.
"I'm here, and a lot of people aren't, and that freedom came with a price. I usually take Veterans Day to reflect on my years of being in the service and the community I was involved with for so long."
— Oscar Garrett Jr., Crane A&E Facilities Manager
 
Oscar's career started as a Flight Simulator Technician, stationed out of Pensacola, Florida, in the late 70s, early 80s. He re-enlisted and attended an advanced electronics school before transferring to North Island, Calif., where Oscar started working on S-3A Viking aircraft, which were known as submarine hunters. During his time at North Island, Oscar deployed twice on the USS Enterprise (1986 and 1988), transferred his role to Aviation Electronics Technician and picked up the title of Chief Petty Officer.
Later, Oscar joined an E-2C Hawkeye Squadron out of Miramar, Calif., and made multiple deployments on the USS Nimitz. He earned the title of Senior Chief Petty Officer and was transferred back to North Island, where he worked on S3-B aircraft with VS-38 Red Griffins.
"The A-6 Intruder tankers went away, and the S-3s took over that role, which was good for us in the 86 and 88 deployment because the Soviet threat of submarines chasing us around had kind of slowed down," Oscar said.
In the early 90s, the S-3Bs served a pivotal role as a tanker, which placed Oscar and his team in high demand.
"We moved to the head of the class, because if there is no gas in the air, no airplanes are going to launch. We got our airplanes back to real good readiness condition to be able to make deployments and supply gas to the airplanes, so that was a real good boost for our community environment."
Oscar rounded out his career with a deployment on the USS Constellation in the mid-90s before returning to North Island where he worked with Sikorsky SH-60B helicopters as a Quality Assurance Supervisor. It's there he earned the prestigious title of Master Chief Petty Officer– a role reserved for less than 1% of Navy personnel.
"Making Master Chief in under 20 years," said Oscar, when asked for some of his top military accomplishments. "I made it in 18. I learned a long time ago when I was a new airman in Pensacola … I had a career counselor that was very straight and honest with me. I said, 'How do I get promoted?' She said, 'Volunteer for everything and don't screw it up,' and that's what I did."
Oscar made a final deployment as Master Chief before calling it a career on November 1, 1999.
The gained skills, leadership and wealth of hands-on experience in the military provided Oscar a successful transition to civilian life. For the next 20 years, Oscar worked at various companies with roles ranging from Plant Engineering, Facilities Manager and Plant Manager before recently joining Crane.
"When I spoke with the Sr. Director of Site Operations on my phone interview, that's all he wanted to talk about was my military career," said Oscar, when asked how beneficial his military experience was to Crane. "I had already passed the test through his interview team to get the job, but he was more concerned about what I did in the service."
As Facilities Manager, Oscar is responsible for the property and equipment at Burbank's 172,602 square foot facility. He manages the upkeep and maintenance of all the site's assets and ensures everything is in good order and ready for ISO audits. Oscar also supports Environment Health and Safety staff and manages the site's Security Department.
Working for an aerospace and defense supplier and continuing to support the military as a civilian gives Oscar a sense of pride.
"It's a sense of patriotism for our country," he said. "I'm doing something for our warfighter to supply them good, safe equipment for them to do their job. At the end of the day, they are the one making it happen. I'm just giving them a tool to do it with, and it has to be a good tool. It has to work every time."
Oscar comes from a military family, with uncles serving in the Air Force, Army and Marine Corps. With his rich family history, combined with his two decades of his own military service, Veterans Day holds a very special meaning to him.
"I feel very humbled and gratified that I can add my name to that list with my uncles," Oscar said. "I'm here, and a lot of people aren't, and that freedom came with a price. I usually take Veterans Day to reflect on my years of being in the service and the community I was involved with for so long."