Employee Spotlight: Serving in Crane A&E's Backyard
Employee Spotlight: Serving in Crane A&E's Backyard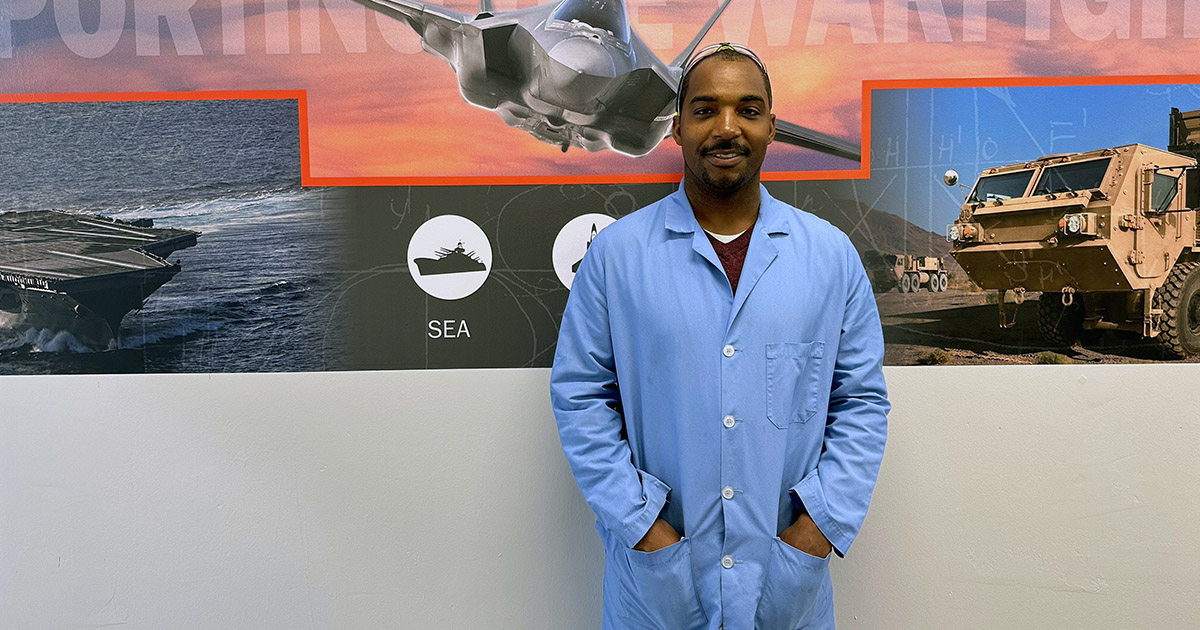 Less than a quarter mile, just beyond the fence line of Crane Aerospace & Electronics' Fort Walton Beach, Fla., facility, is a reminder of Ryan Shaifer's past and present military service -- Hurlburt Field Air Force Base
Ryan was stationed there during his six years of active service with the United States Air Force. He worked in aviation electronics, repairing Line Replacement Units (LRUs) for the base's aircraft fleet.
Today, as a seven-year Crane A&E employee, Ryan still frequents Hurlburt AFB. He serves there one weekend every month as an Air Force Reservist, which Ryan has done since leaving active service in 2015. 
"The fact (Hurlburt Field AFB) is so close to where I actually served, when I do my reserve time, it makes it that much easier," Ryan said. "It's huge to me to have a company that supports me and actually understands being in the reserves."
Ryan is one of many Crane A&E veterans who have translated their military skills into a successful career with Crane. Ryan works as an Engineering Technician III. He assists engineers with various tasks, ranging from testing and troubleshooting units, to doing design verification and building test sets. Crane A&E's Fort Walton Beach site supplies military power electronics, so Ryan has the honor of supporting the warfighter in his civilian and reservist role.
"Veterans Day, that's pretty much where it touches me – reflecting on all the people who served before us, all the wars that we fought and the sacrifices they made for us to have the freedoms that we have today."
— Ryan Shaifer, Crane A&E Engineering Technician III
 
Ryan enlisted in the U.S. Air Force in 2009, following in the military footsteps of his father, who served in the Navy. Ryan was attending college in Hampton, Va., when he decided to move back home to Berkely, Calif., and join the service. Living by Virginia's Norfolk Naval Station and Langley Air Force Base inspired Ryan to join the Armed Forces and opened his eyes to the benefits of joining the military.
The Air Force is where Ryan was first introduced to electronics. After testing well on his Armed Services Vocational Aptitude Battery (ASVAB), Ryan chose to work in avionics. Following basic training, he was sent to a tech school before learning electronics principles and other courses that provided the foundational skills he possesses today.
"I worked specifically in Communications, Navigation and Mission Systems, so all the electronic components that dealt with those systems got sent to me or my unit and we fixed them" Ryan explained. "They sent us the broken part, we broke it open, trouble shot it, fixed it and sent it back."
While Ryan earned recognition and sterling performance reports during his six years in the Air Force, he feels his largest impact has been made in his Emergency Management reservist role. Ryan compared the work he does in the reserves to the Federal Emergency Management Agency (FEMA). During his seven years in the reserves, Ryan has been on several deployments and temporary duty assignments – including a deployment to Africa and U.S. areas needing emergency support. One of the missions Ryan is most proud of is the relief he provided in the aftermath of Hurricane Michael in 2018.
"My reserve duty is pretty demanding, because we are a deployable unit, so the whole mission is to be ready," Ryan said. "We have to be ready at a moment's notice. It's constantly having your certification updated and ready – your training always constantly ready and updated."
The military has played a large role in Ryan's life. He's served 13 years between active duty and the reserves, and when Veterans Day comes around, it's a special opportunity for him to appreciate those who've sacrificed and served before him.
Ryan participated in honor guard while on active duty, attending retirements and funerals where he conducted gun salutes and provided flags to next of kin after a veteran had passed away. This offered Ryan a unique perspective, an even deeper appreciation for those that served before him.
"After doing that, you kind of get a grasp on the people who came before you and served before you and the foundation that they laid for the next generation of airmen or people serving in the military," Ryan said. "Veterans Day, that's pretty much where it touches me – reflecting on all the people who served before us, all the wars that we fought and the sacrifices they made for us to have the freedoms that we have today."