Crane Fund Giving: Lynnwood Employee Gives Back to Transformative Youth Program
Crane Fund Giving: Lynnwood Employee Gives Back to Transformative Youth Program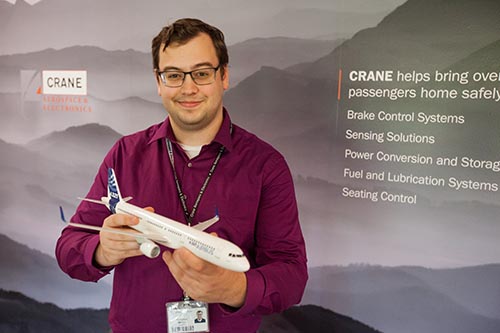 Years ago Nick Mallott was in his high school science class when his teacher pitched him an idea. "He told me about this science program at the Museum of Flight," Mallott said. "I knew nothing about it, but he said I should go look at it."
Mallott grew up infatuated with space exploration and possessed a love for math and science. By middle school, he knew he wanted to be an engineer, but Mallott didn't know what type of engineering he wanted to study. That suggestion by his science teacher laid the foundation for Mallott's career as a systems engineer at Crane Aerospace & Electronics.
Mallott enrolled in the Museum of Flight's free Washington Aerospace Scholars Program, now the Western Aerospace Scholars Program, during the summer between his junior and senior year. The program is a seven-week online course designed for high school students interested in STEM pathways through the exploration of space and space travel. At the course's conclusion, program members are invited to a multi-day residency at the Museum of Flight, which is the world's largest independent nonprofit air and space museum.
At the museum, Mallott's capstone project was to design a mission to Mars with the help of other program members. It's where Mallott got his first taste of working in systems.
"It's a unique program, and it inspired me to look at aerospace even further," Mallott said. "Even in the program, I did something called point of contact where our design team all had a point of contact who was in charge of managing requirements that we needed to meet for the overall project, which is very similar to what I'm doing in systems right now. It's cool to see how it's paralleled." Mallott's experience with the museum's scholars program was so impactful that he decided to give back through Crane Co.'s Crane Fund for Widows and Children.
"I sent in a nomination for that program, because I think it's a great system where you don't have to have the kids pay for it," Mallott said. "It's an experience that can inspire kids to go off and pursue aerospace. It definitely encouraged me to do so." The Crane Fund was established in 1914 and consists of three charitable trusts. The Crane Fund for Widows and Children contributes to organizations that provide direct services to the needy or underserved in our local community. Each year, through the Fund, Crane employees receive the opportunity to donate to causes they care about.
Crane's philanthropic culture is one of several reasons Mallott is enjoying his first year working at Crane A&E. "The idea of giving back and the fact that it's been a part of Crane for so long is really inspiring," Mallott said. "I'm proud to be a part of Crane because of this."