Crane A&E Associates Sponsor Donations to 109 Organizations Through Crane Charitable Trust
Crane A&E Associates Sponsor Donations to 109 Organizations Through Crane Charitable Trust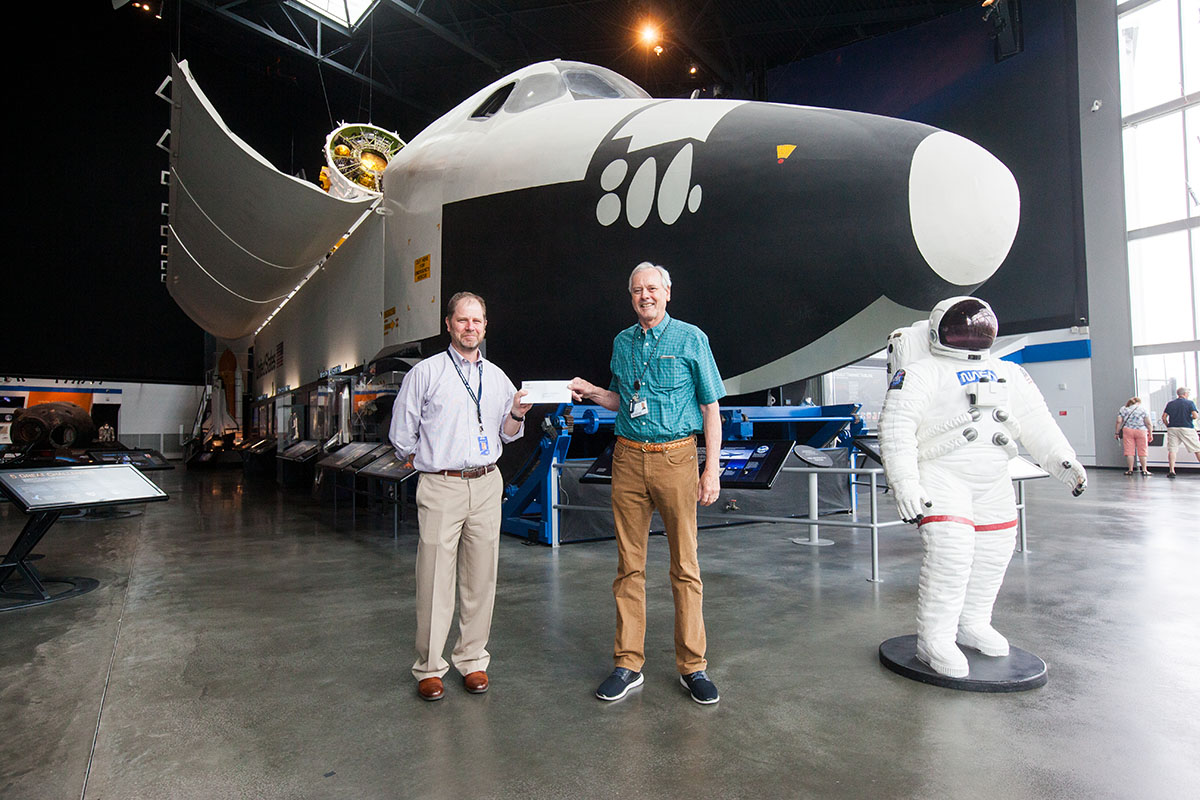 Aug. 3, 2021 - Each year, through the Crane Fund for Widows & Children, Crane associates are afforded the opportunity to nominate and provide a financial gift to local organizations who help underserved populations in the communities where our associates work and live. It's a longstanding practice based on the ethos of Crane founder, R.T. Crane, who in 1904 declared, "a loyal employee gives something besides his labor and the employer should recognize that."
R.T. Crane established a compassionate business culture rooted in community giving and taking care of his employees that lives on today. 
Toward the end of R.T. Crane's life, he set aside $1 million to take care of former associates who were no longer able to support themselves. Ten years after R.T. Crane passed, his family established the Crane Fund for Widows & Children (CFW&C), which provides direct assistance to those in need.
This year, Crane Aerospace & Electronics – a business unit of Crane Co. – nominated 109 organizations in the eight communities Crane A&E operates (Lynnwood, Wash.; Burbank, Calif.; Chandler, Ariz.; Elyria, Ohio; West Caldwell, N.J.; Fort Walton Beach, Fla.; Lyon, France; Kaohsiung, Taiwan). Each of these charitable organizations were presented gifts ranging from $1,000-$5,000 by their sponsoring Crane A&E associate.
"We are proud to be part of a Crane culture that knows the importance of strong corporate citizenship. It's our responsibility to positively impact the communities where we operate, and we're pleased to empower our employees by utilizing the Crane Fund for Widows & Children to support the causes that are most important to them."
— Meggan Pavlick, Crane A&E HR Director
For additional information about philanthropy at Crane, Crane Co.'s latest Philanthropy, Sustainability and Equality (PSE) Report can be accessed at: http://www.craneco.com/pse
2021 CRANE AEROSPACE & ELECTRONICS CRANE FUND FOR WIDOWS & CHILDREN RECIPIENTS
| | |
| --- | --- |
| Acres of Diamonds | Lorain Valor Home |
| American Service Animal Society (ASAS) | Los Angeles Urban League |
| Arizona Hemophilia Association | Lynnwood Food Bank |
| Association Blanc Bleu Rose | Madres de Casino Rd |
| ASU Foundation | MESA - Mathematics, Engineering, Science & Achievement |
| Autism Pensacola | Michael Hoefflin Foundation for Children's Cancer |
| AZCEND | Mt Vernon Christian School |
| Ballard Food Bank | Museum of Flight - The Boeing Academy for STEM |
| Be the Match Foundation | National Multiple Sclerosis Society  - Ohio Buckeye Chapter |
| Blessings Wagon | Nationwide Children's Hospital Foundation |
| Boyer's Children's Clinic | Neighborhood Alliance |
| Burbank Center for the Retarded (BCR) - A Place to Grow | New Heart Place |
| Burbank Temporary Aid Center (BTAC) | New Hope Community Ministries |
| Cal Poly Pomona Philanthropic Foundation | North Coast District UMC Nehemiah Mission |
| California State University Northridge (CSUN) | North Shore Elder Services |
| Camp Del Corazon | Olmsted Falls Bible Church |
| Camp Ho Mita Koda Foundation | Open Doors for Multicultural Families (ODMF) |
| Camp Prime Time | Opportunity Place Inc |
| Cassidy's Hope Foundation | Outdoors for All |
| Child Strive | Park Place Early Learning Center |
| Children In Crisis | Phoenix Children's Hospital Foundation |
| Claire's Crusade | Point Washington Medical Clinic |
| Cocoon House | Relay for Life - Fort Walton Beach - American Cancer Society |
| Covenant House New Jersey | Ronald McDonald House |
| Dawn of Hope | Saddleback Church Food Pantry |
| Dean Paras Foundation | Santa Rosa Bridges |
| Do It Yourself Girls | Seattle Children's Hospital Foundation |
| Eden Social Welfare Foundation | Second Harvest Food bank of Northeast Ohio |
| Elyria YWCA | Sharsheret |
| Eva's Village | Skagit Valley Family YMCA |
| Everett Gospel Mission | Snoqualmie Valley Scouting |
| Family Hope Elizabeth House | Society of Mentorship for Minority Women and Girls |
| Fisher House of the Emerald Coast | Society of Women Engineers |
| Footpath Foundation | St. Ambrose - ALPHA Village |
| Foundation Fighting Blindness | St Mary Parish Hot Meal Program |
| Friends of Youth | Team Rubicon |
| FSU College of Engineering Scholarship - National Society of Women Engineers | The HopeCenter - Brownsville Inc |
| Full of Hope Foundation | The Mountaineers |
| FutureHeights, Inc. | The University of Akron Foundation |
| Gateway Industries, Inc. | TLC Foundation |
| Genesis Social Welfare Foundation | Toni's Kitchen, A Food Ministry of St. Luke's Church |
| Giving Trunk Foundation | Tuskee University - Lilly D. McNair Women in Engineering Scholarship |
| Holly House for Kids | United Cerebral Palsy of Greater Cleveland |
| Hope Center Hope Chest | United Food Bank |
| Hope Children Care Foundation | United Sikhs |
| House of Healing Outreach International Ministries | United Way of Taiwan |
| Housing Hope | University of Akron Foundation, IDEAs |
| I Have a Dream Foundation Los Angeles | University of Akron Foundation, Women in Engineering Fund |
| Imagine Children's Museum | University of Washington Foundation |
| Jessie Rees Foundation | Upper Valley MEND |
| Kidsave | Valley Village |
| Lambert House | Welcome Home Vets of New Jersey |
| Les Amis de Michelle et René | Western Washington University Foundation |
| Life Sharing Center Inc. | Work Opportunities |
| Little Bit Therapeutic Riding Center |   |