Crane A&E's Leading Thermal Management System Solutions
Crane A&E's Leading Thermal Management System Solutions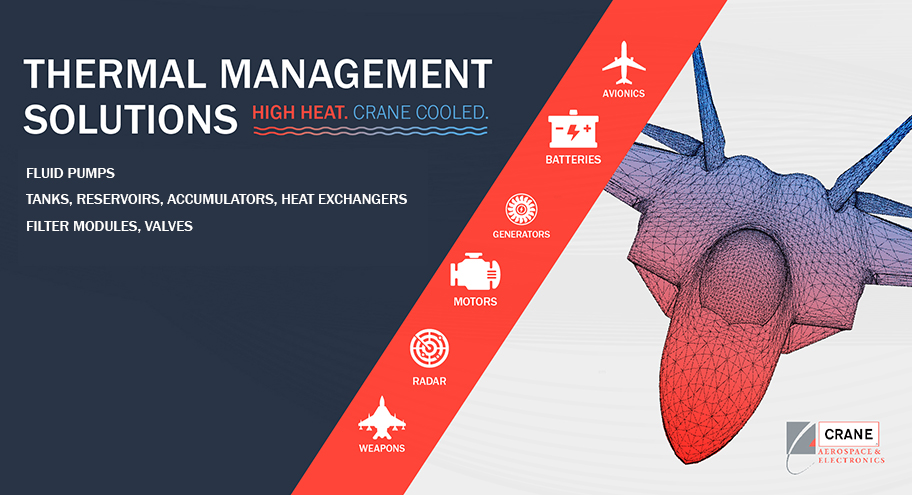 For more than 100 years, Crane A&E has delivered the aerospace & defense industry trusted, reliable fluid management solutions. Our fluid story started in 1910 when Crane A&E's legacy brand developed and patented vane pump technology. We started pumping fluid for aerospace customers a decade later when the U.S. Navy requested a single-element vane pump to pump fuel inside an aircraft. Our capabilities have evolved throughout the years, and today our Fluid Management business provides rapidly configurable or custom designed positive displacement pumps, centrifugal pumps and mass fuel flow transmitters for aerospace and defense systems used throughout the world.
As our Fluid Management business has evolved, so has our industry. Aerospace & defense is building with more electronic components than ever, which generate large amounts of heat. From advanced air mobility aircraft to traditional aircraft adopting hybrid-electric or all-electric propulsion to curb carbon emissions, aircraft power architectures are moving toward higher power efficiency and increased power density. The defense industry is also transforming with the development of energy-directed weapons, unmanned aerial vehicles (AAMs) and more electric vehicles. This transition has spurred the need for reliable thermal management system capability.
Leveraging our rich history of fluid management expertise and proven capability, Crane A&E is a supplier of choice for customers' thermal management needs. Our liquid cooling capabilities are vast. We supply liquid cooling solutions for a range of thermal loads – from weapon systems to avionics, generators, batteries, motors and next-gen radar systems. We supply custom and rapidly configurable centrifugal and positive displacement pumps for fuel, water and coolant applications. Drive types include:
Gearbox driven
Hydraulic motor driven
400 Hz fixed frequency AC
28 VDC brush and brushless
270/540/600/800 VDC brushless
Our pumps feature high reliability, high efficiency, priming performance, and contamination wear resistance.  Our motors and motor controls range from 28V to 800 VDC and support a wide range of voltages up to 15 kW. The pumps, motors, and motor controls can be rapidly configured for a complete, customized solution.  Crane A&E is also investing in smart pump technology, which will supply diagnostics and support prognostic capability.
Our complete thermal management solutions include filter assemblies, valves, accumulators, tanks, reservoirs and heat exchangers in addition to our pump technology.
Crane A&E's Fluid Management manufacturing facility has been a staple in Northeast, Ohio, since its construction in 1917. Our facility includes a flexible manufacturing system, vertically integrated manufacturing cells, (NADCAP) special process accreditation, worldwide repair station certifications and a new state-of-the-art repair and overhaul facility.
Contact one of our Fluid Management experts below to learn more about our thermal management system capabilities.
SEAMUS O'BRIEN
seamus.obrien@craneae.com
BRIAN KOMAR
brian.komar@craneae.com