Crane A&E Receives SmartStem Tire Pressure Sensor STC For Bombardier Global 7500
Crane A&E Receives SmartStem Tire Pressure Sensor STC For Bombardier Global 7500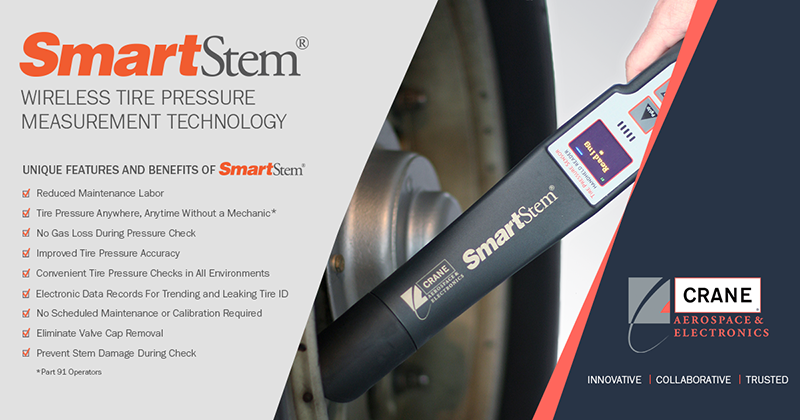 Crane Aerospace & Electronics has received a Supplemental Type Certificate (STC) from the FAA to supply its SmartStem Tire Pressure Sensors (TPS) on Bombardier Global 7500 aircraft.
Global 5000 and 6000 operators have enjoyed SmartStem technology benefits for years. Crane A&E is pleased to extend the SmartStem TPS offering to 7500 operators so they can also utilize the wireless tire pressure sensing and automatic data tracking SmartStem technology provides.
"Crane A&E is committed to delivering smart technology to our customers that improves efficiency and maintainability," said Hilary King, Crane A&E VP of Sensing & Power Systems. "We're pleased to make our SmartStem TPS option available for Global 7500 operators to enhance aircraft safety while also reducing their tire pressure maintenance time."
Using SmartStem, Global 7500 operators can conveniently check their jet's tire pressure in seconds without risking valve damage or gas loss. This simplifies the preflight checklist – saving time and money. SmartStem systems consist of high-accuracy, wireless tire pressure sensors and a handheld reader, which measures and displays the tire pressure and temperature.
Crane Aerospace & Electronics' SmartStem TPS is certified on countless business, regional and commercial transport aircraft throughout the world.
LEARN MORE ABOUT SMARTSTEM TECHNOLOGY