Crane A&E an Industry Leader in Integrated Microwave Assembly Manufacturing
Crane A&E an Industry Leader in Integrated Microwave Assembly Manufacturing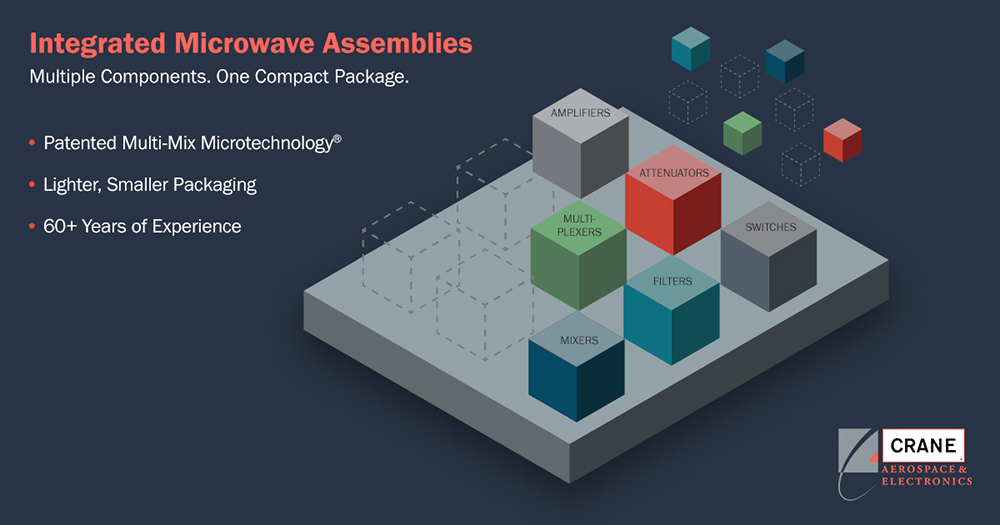 For more than 60 years, defense, space and commercial industry leaders have relied on Crane Aerospace & Electronics' Microwave products to supply premier off-the-shelf and custom-tailored solutions. Crane A&E's rich history and expansive knowledge in the design and manufacturing of high-performance RF and IF components and millimeter-wave systems and subsystems is unmatched. That deep reservoir of knowledge extends to Crane A&E's expertise in building Integrated Microwave Assemblies (IMA). Using our patented Multi-Mix Technology, we're able to build smaller and lighter assemblies than other microwave manufacturers.
LIGHTER, SMALLER INTEGRATED MICROWAVE ASSEMBLIES
Crane A&E's Microwave group integrates its catalog of microwave products into one small, lightweight integrated assembly. Building IMAs reduces customer cost and allows Crane A&E to tailor performance of each individual component in order to optimize the overall device. Crane A&E designs the entire package to fit specific customer physical requirements and works with customers who prefer partial design control.
Crane A&E's extensive design library of components helps provide customers with quicker solutions. The Microwave group can get answers fast and frequently pulls from older design information that can be used in our current products. Below are the IMAs Crane A&E supports.
RF Converters
Beamformers
Complex Oscillator Assemblies
Frequency Converter Assemblies
Switch Matrix Systems
THE MULTI-MIX TECHNOLOGY DIFFERENCE
Crane A&E's Multi-Mix Technology is behind our unique ability to reduce IMA size and weight. Traditional manufacturers attach multiple layers of circuits together by using a bonding agent. Crane A&E's fabrication technique uses an autoclave process where we fuse circuits together directly – Teflon on Teflon – so they become a uniform structure and can surround the inner circuitry as part of the circuit board fabrication. This allows Crane A&E to put circuit features on inside layers that other manufacturers are unable to, which allows us to have more features in a smaller x and y dimension space and provide a denser final product.
"Crane A&E is committed to delivering our customers premier microwave solutions. Our long legacy of supporting major military, communications, electronic warfare, radar and satellite systems has led to development of our unique Multi-Mix Technology, which provides a smaller, lighter integrated microwave assembly with the same quality and reliability customers have always expected from us."
— Chuck Davis, Crane Director of Business Development, Microwave
LEARN MORE ABOUT CRANE A&E's MICROWAVE SOLUTIONS