Crane A&E Expert Q&A: New High-Accuracy, CAN Output Proximity Sensor Crane A&E
Crane A&E Expert Q&A: New High-Accuracy, CAN Output Proximity Sensor Crane A&E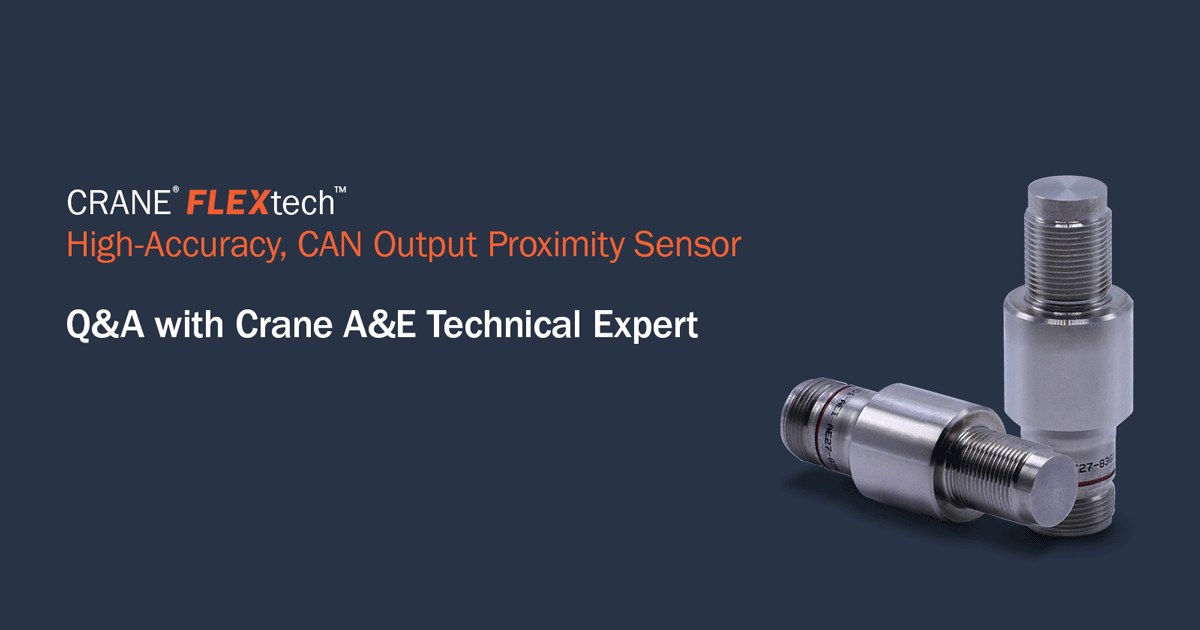 Built from years of expertise in developing innovative sensing technology for aerospace and defense customers, Crane A&E is pleased to introduce Crane® FLEXtech™ technology and its new High-Accuracy, CAN Output Proximity Sensor. A&E's new, innovative sensor delivers customers accurate, absolute gap measurement. The new sensor also permits direct data bus connectivity, which supports data tracking and analysis as part of a more connected aircraft.
Eric Haas, Crane A&E Director of Business Development for Sensing & Power Systems, discusses below the benefits of Crane FLEXtech and the first product under the technology's banner.
QUESTION: WHAT IS CRANE FLEXTECH, AND HOW WILL CRANE A&E'S NEW FAMILY OF SENSING PRODUCTS BETTER SUPPORT AEROSPACE AND DEFENSE CUSTOMERS?
ANSWER (ERIC HAAS): Crane FLEXtech is our new brand of sensing components which deliver higher performance for our customers in terms of sensing accuracy and the way in which they can be easily adapted to unique customer requirements by employing a flexible building block design architecture.
Q: CRANE A&E'S CRANE FLEXTECH HIGH-ACCURACY, CAN OUTPUT PROXIMITY PROVIDES ABSOLUTE GAP MEASUREMENT AND PERMITS CAN BUS CONNECTIVITY. WHY IS THIS SO IMPORTANT?
ERIC: The traditional application of proximity sensing technology on aircraft is to reliably sense the discrete position of a mechanical system – for example is the door open or closed? Is the landing gear up or down? Our High-Accuracy, CAN Output Proximity Sensors have expanded capability in that they can accurately measure the actual absolute distance between the mechanical system components – and then communicate that information over a CAN data bus. More precise information on the status of a mechanical system, plus a way to easily communicate that to other aircraft systems, can result in new, novel applications of the technology which were previously unavailable with traditional proximity sensing devices.
Q: HOW HAS CRANE A&E USED ITS YEARS OF EXPERTISE IN SENSING TECHNOLOGY TO DEVELOP THE NEW, INNOVATIVE CRANE FLEXTECH HIGH-ACCURACY, CAN OUTPUT PROXIMITY SENSOR?
ERIC: Our first high-accuracy sensors were developed for some Airbus programs several years back, but those systems required remote electronics in a black box or computer. We've now taken that high-accuracy, absolute gap measurement capability and packaged it into a tiny sensing component – plus given it the ability to communicate with other aircraft systems via a CAN data bus. This results in weight savings for our customers through the elimination of dedicated interface electronics and wiring.
Q: WHY ARE PRODUCTS THAT SUPPORT A CONNECTED AIRCRAFT SO IMPORTANT, AND WHAT BENEFICIAL INFORMATION CAN THE NEW HIGH-ACCURACY, CAN OUTPUT PROXIMITY SENSOR PROVIDE OPERATORS?
ERIC: Unscheduled maintenance represents a huge and undesired cost for aircraft operators. Using sophisticated sensors that monitor performance parameters across the whole aircraft and communicate this information to systems with complex algorithms can provide operators a way to reduce unscheduled maintenance. Our High-Accuracy, CAN Output Proximity Sensor can serve an important function in this space by monitoring – for example – small changes in the mechanical system in which they are installed, which could be an important predictor of future maintenance activity.
Q: HOW CAN CRANE A&E'S CRANE FLEXTECH HIGH-ACCURACY, CAN OUTPUT PROXIMITY SENSOR SUPPORT THE EVER-GROWING ALL-ELECTRIC AIR MOBILITY MARKET?
ERIC: Many of the new all-electric, UAV and advance mobility aircraft have unique propulsion systems very different from the gas turbine engines used on most aircraft today. With these new propulsion systems there comes an opportunity to introduce this new product in some new, novel applications that can benefit from the unique advantages we offer in terms of high-accuracy, absolute gap and data bus connectivity.
Learn More About Crane A&E's High-Accuracy, CAN Output Proximity Sensor